About hotel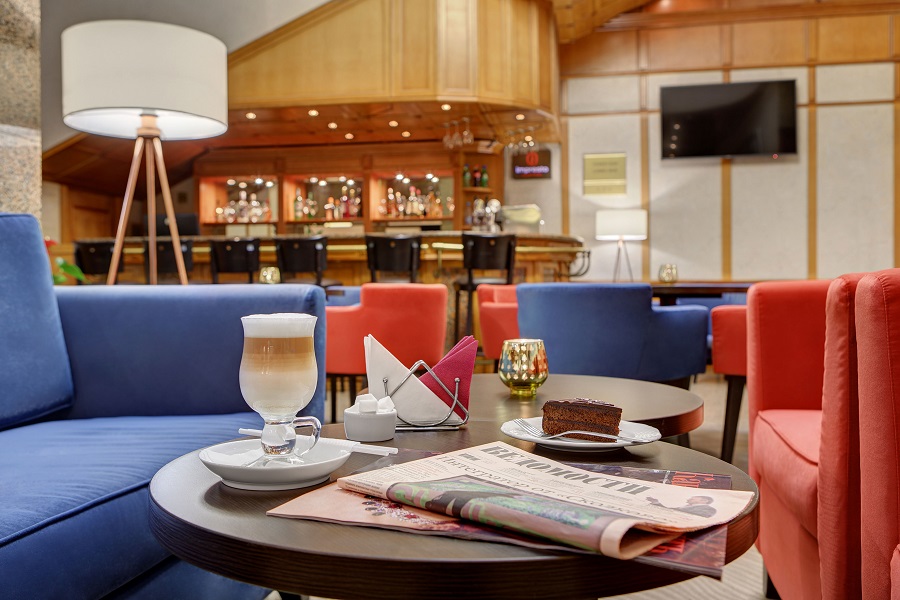 Park Tower hotel 4*(ex."Molodezhny" hotel) is a modern hotel offering wide range of services for business and leisure travelers. Hotel provides comfortable stay for tourists and businessmen, sportsmen, youth, school children and families. It is located in the North of Moscow, at Dmitrovskoe schosse, near metro station "Timiryazevskaya", 15 minutes' drive to the historical center and only 18 km from Moscow International Airport Sheremetyevo. We are happy to offer rooms of different categories Standard, Junior Suite and Suite. You will be pleasantly surprised by wide variety and quality of our Buffet Breakfast. Cafes «Shoum Goroda» and Lobby bar are at your service 24 hours on the 1stfloor. Banquet restaurant "Alpiysky Dvorik" is opened for you on the 2nd floor. Please come and enjoy delicious dishes of Italian, Russian and Orient cuisine as well as desserts from our chef. Free Wi-Fi access is available in all public zones of the 1stand 2nd floors and in all rooms. Any event can be celebrated in our restaurants and cafes. Our three conference halls are good venue for business events. Coffee brakes, lunches, dinners, banquets and buffet table can be served for the participants upon organizers' request. For your convenience we offer: 24 hours Room Service, cash machines, photo studio, safety deposit box, luggage office, guarded parking, order of a taxi, organization of excursions.
Services and

Facilities

IN HOTEL ROOMS:
Double bed / 2 single beds
Workplace
Free WiFi
Air conditioning
Bathroom with shower / bathtub
Safe
Phone
TV
Kettle (in Suite)
Bathrobe (by request)
Free bottle of mineral water on chek-in
Toiletries
Daily Housekeeping
All Spaces Non-Smoking
IN THE TERRITORY OF THE HOTEL:
Free WiFi
Restaurant (à la carte & buffet), Bar, Cafe
Conference halls
Baggage Storage
Lobby bar
Water cooler on the floor
Payment Terminals
Safe
ATM machine
Fitness room
All Spaces Non-Smoking
HOTEL SERVICES:
24-Hour Front Desk
Paid parking
Business center
Luggage service (on request)
Visa support
Laundry service
Сatering services
Room Service 24 / 7
Event service
Minibar (by request, for a fee)
Registration of paid services to the room
Staff speaks Russian, English
What's

nearby?

Park Tower hotel (ex."Molodyozhny" hotel) is in the north of Moscow, at Dmitrovskoe highway, near "Timiryazevskaya" and "Petrovsko-Razoumovskaya" metro stations. Taxi ride without traffic jam from the hotel to the historical center and the Red Square will take not more than 15 minutes for about 350 Rub. Metro trip from "Timiryazevskaya" to "Borovitskaya" that is near the Moscow Kremlin walls is also 15 minutes and doesn't depend on traffic! It takes a few minutes by monorail to get from "Timiryazevskaya" to Ostankinskaya TV Tower and VDNKh which is now modern museum, educational, entertainment and park complex. Timiryazevsky park is at foot walk from Park Tower hotel. A trip to Botanical Garden will take only one metro stop from "Petrovsko-Razoumovskaya" to "Vladykino". We hope all our guests will have a great time in Moscow!

See in Details
Guests

about us

Price is reasonable. Nice and friendly service. Good and free breakfast. All restaurants on premises have delicious food. Prices are affordable and appropriate. Public Transport is nearby. Subway is only two stops away.

Garret

27.02.2018
I like a breakfast in hotel.
Marina

27.02.2018
Location was good and normal.. the food was excellent!..
Ed

27.02.2018
Leave Comment